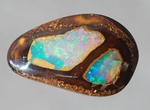 Yowah Nut Opal
New Opal Additions
Here you will find the latest additions of Yowah Koroit boulder & Australian opals, opal beads sterling silver opal pendants and jewellery as well as other types of opals for sale. All opals photographed in sunlight unless otherwise stated. All our opals are natural solids, there are no doublets or triplets.
Please click on the thumbnails of the opal jewellery to view more photos.
I WILL BE FINISHING THE UPDATE TO THE CATALOGUE IN A WEEK'S TIME (around 12th August) AND WILL EMAIL SUBSCRIBERS WHEN UPDATE HAS FINISHED.