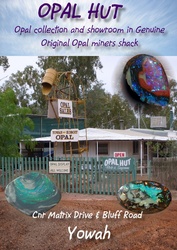 Opal Hut Yowah Australian Opals
We are underground opal miners and cutters at the Yowah Opal Field. While at Yowah, we live in a small tin shack with showroom at the front, on the corner of Matrix Drive and Bluff Road (right beside the Artesian Waters Caravan Park.)
All opals on the Yowah page are Yowah Extended Field including Koroit and Blackgate. The Boulder page is boulder opal from other fields in Queensland including Winton and Quilpie. Photos are of the actual pieces and are one of a kind. (except the strands of opals, which may vary slightly)
Our opals are all Australian and are not treated in any way (except for being cut and polished). All our opals are natural solids, there are no doublets, triplets, Gilson or other man-made opals.
Yowah & Koroit opals are unique Australian boulder opals found no where else in the world. Yowah is known for its beautiful and unique Yowah opal nuts - ironstone concretions (mini boulder opals) which hold opal deposits in their centres.
Dealer/Reseller enquiries welcome.